Woman chases train down tracks at Burnley Central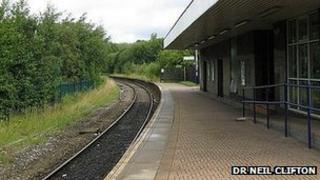 A woman who chased a train along tracks in Lancashire after leaving her bags on board has been fined for trespassing.
The 34-year-old got off at Burnley Central on Thursday to buy a ticket after her card was rejected when she tried to purchase one from the guard.
She jumped on to the tracks after the train left without her and was picked up while running between the station and Burnley Barracks.
British Transport Police said her actions were "incredibly dangerous".
She was given a £50 fixed penalty notice for trespassing on the railways.
A Northern Rail spokeswoman said "not only did the woman's actions cause delays to others but she also put own safety at risk".