Preston soldier gets service medal 42 years later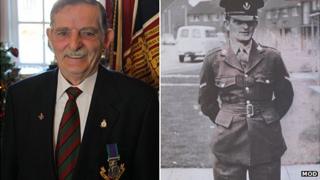 A former soldier from Preston has said receiving his only service medal 42 years after he was supposed to was "the best Christmas present ever".
Joe McKenna, 72, who served with the Loyal Regiment, was due a medal for his time in Northern Ireland but left the Army before it was minted.
He said it was when he was on parade in 2011 that he thought "I really should get my medal".
He received the medal in a ceremony at Preston's Fulwood Barracks.
Mr McKenna joined the army in 1961 and served as a private in Kenya, Swaziland, Cyprus, Malta and Northern Ireland before being demobbed in 1970.
"It was only when I was marching at the Armed Forces Day Parade in Preston last summer when I thought 'I am getting on a bit now and I should really get my medal'," he said.
"I think my son would like to have it when I am gone - he and my daughter think that it is marvellous that it's finally here.
"It's the best Christmas present ever and it makes me very proud."
A General Service Medal with a Northern Ireland clasp is awarded to soldiers who have served a minimum of 30 days in the country since 14 August 1969.