Skelmersdale £20m revamp plans are approved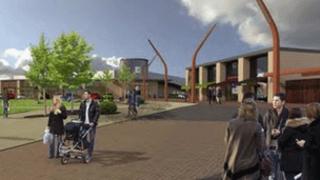 Plans to redevelop Skelmersdale town centre have been approved by West Lancashire Borough Council.
The St Modwen Properties scheme includes plans for new restaurants and shops, a petrol station, public spaces and a five-screen cinema complex.
It said it will create new links between the new development and existing elements of the town centre,
Developers hope the proposal, which represents some £20m of investment in the town, will create 350 jobs.
Plans include linking The Concourse shopping centre and West Lancashire College with the new areas, with a promenade terrace linking the two.
The proposals also include a new public square to enhance the setting around the existing Nye Bevan swimming pool and library, and a new children's play area in the Tawd Valley Park.
'Huge benefits'
St Modwen has been working closely with West Lancashire Borough Council and the Homes and Communities Agency (HCA) on the plans.
Paul Batho, projects director at St Modwen, said: "The council's decision on the planning application brings the vision for the town centre one step closer in the process.
"The participation of the local community has really supported the efforts of the partners, who have worked hard to keep the plans alive throughout these challenging times.
"There is still a long way to go over the coming months but we will continue to work closely with West Lancashire Borough Council and HCA to develop plans for delivery of the scheme."
Martin Forshaw, West Lancashire Borough Council portfolio holder for Planning and Development, said: "The regeneration of Skelmersdale town centre will bring huge benefits to everyone in the borough, not just those living in the town.
"We are delighted the scheme is a step closer to becoming a reality and we look forward to working with St Modwen and the HCA to make sure the scheme is delivered."
The scheme had been put on hold as proposals for a large retail development were being considered in neighbouring Kirkby.
St Modwen feared the plans - put forward by Tesco and Everton Football Club - would negatively affect the Skelmersdale scheme, but it was rejected by the government in 2009.
West Lancashire Labour MP Rosie Cooper said she was "delighted" that the plans had now been given the go ahead.
But she said she hoped work on the scheme would commence sooner rather than later.
"I understand that St Modwen are saying there is a 'long way to go'," she said.
"My message to them is that it is time to get on with delivering this scheme.
"If they are committed to developing Skelmersdale then we need to see some definite timescales. The people of Skelmersdale have waited long enough.
"I grow increasingly frustrated by the lack of urgency and the speed of progress on this scheme. I've spoken of developing a future for Skelmersdale for the next 50 years. I won't let it take 50 years to deliver."