Blackpool Zoo's orang-utans move to Chester during building works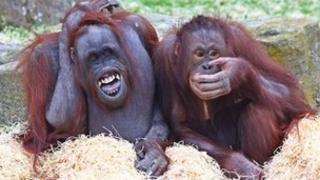 A family of orang-utans are moving out of their Blackpool Zoo home while work is carried out to make it bigger.
Vicky and her daughters, Cherie and Summer, along with resident male Ramon, will move to Chester Zoo while the home improvements are under way.
Their ape house, which was built in the 1970s, will be tripled in size and an upstairs viewing area and extended keeper facilities will be created.
The orang-utans will move out in January and return in the spring.
'Improved views'
The £600,000 improvements are part of a three-phase development which will be carried out over the next few years.
The second phase will see the orang-utans' outside space extended and a new play area built, and the third phase will mean the gorilla house will be renovated and extended.
Darren Webster, Blackpool Zoo's managing director, said: "We are delighted that the planning and funding has been approved for this development and the new facility will be fantastic for our apes.
"Visitors will also benefit from improved views of the animals, which are firm favourites here in Blackpool.
"This is just the first of three exciting stages that will truly change the landscape of Blackpool Zoo and by working very closely with our keepers and Zootech we are confident that everyone, especially our orang-utans, will be delighted with the changes."