Preston Bus Station should be demolished, says council boss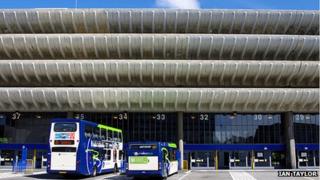 Preston's bus station should be demolished, the leader of the city council has said.
Councillors will be asked to vote to demolish the building, described as an "iconic modernist structure", on 17 December.
Council leader Peter Rankin (Labour) said demolishing and rebuilding it was better value for money.
But campaigners argue the station is profitable and is an outstanding piece of architecture.
Mr Rankin said the 43-year-old building costs £297,000 to run annually and the repair bill would be £5.4m to install new lifts, ramps and concrete work.
He added estimates for refurbishing the whole building range from £17m to £23.1m.
"I just cannot see how we can truly justify spending up to £23m of taxpayers' money on a building with a 20-year design life remaining," said Mr Rankin.
'Profit claim'
But campaigner John Wilson, who collected a 1,500 signature petition calling for a council debate on the station, disputed Mr Rankin's figures.
"The bus station and its car park make a profit - we just don't understand why the council want to get rid of it," he said.
"It is still a bus station that is fit for purpose. I think the councillors are just testing the temperature."
Architecture experts have also condemned the plan to bulldoze what is seen as a good example of the Brutalist school of architecture.
Hugh Pearman, Editor of the Royal Institute of British Architects (RIBA) Journal, tweeted: "This is terrible news. They really are going to demolish Preston bus station, the idiots."
Dr Steve Millington, of Manchester Metropolitan University, also tweeted: "It is an iconic modernist structure of international significance. The region stands to lose another architectural asset."