Measles outbreak confirmed in Lancashire by HPA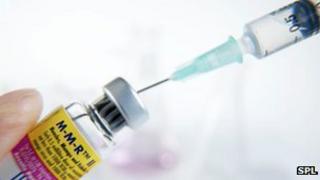 There has been a ten-fold increase in cases of measles across Lancashire, the Health Protection Agency (HPA) has said.
In the last year the number of confirmed cases has risen from 6 to 59, classing it as an outbreak.
More than 600 cases have been confirmed in the North West this year, with most on Merseyside and in west Lancashire.
Dr Ken Lamden from the HPA said the low uptake of the MMR jab in the late 1990s was partly to blame.
"There is also more infection in other areas of the country making it more likely that it will pass into Lancashire," he added.
"Because we're seeing more cases and it's a highly infectious disease, we're particularly concerned about schools and nurseries where children could be easily affected."
Dr Lamden added: "Anyone who isn't fully vaccinated is liable to be vulnerable to it."
Measles is an infectious viral illness that is spread when infected people cough or sneeze.
The most common symptoms are fever, cough, sore eyes and a rash that develops three or four days after the onset of illness, starting with the face and head and spreading down the body.