Rare St Ursula badge donated to Museum of Lancashire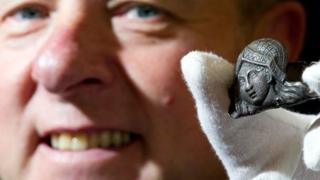 A rare medieval badge that was found in a field near Preston has been donated to a Lancashire museum.
The silver badge, showing one of the companions of St Ursula, was found by Paul King when he was trying out a new metal detector last summer.
Valued at about £500, the artefact will go on display at the Museum of Lancashire in Preston.
The badge, which was worn by people on pilgrimages, has previously been on display at the British Museum.
They were popular between the late 12th and early 16th Centuries and pilgrims would buy one with a different image of a saint at each shrine they visited.
However, most of these badges were made of lead-alloy, not precious metal.
The shrine of St Ursula is associated with Cologne in Germany, where there is a chapel decorated with the supposed bones of her companions.
Museum manager Charlotte Steels said it was "wonderful to have such a rare object donated to the museum".