Fylde fracking: The new Aberdeen or toxic gamble?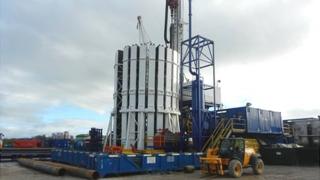 The search for shale gas in Lancashire's Bowland basin is back on after the government gave it the go-ahead.
It had been suspended in June 2011 after testing for shale gas reserves was found to be the "likely cause" of two earth tremors near Blackpool.
Cuadrilla Resources owns four sites in Lancashire - Weeton, Singleton, St Annes and Banks - which are licensed to test for shale gas.
The firm intends to extract the gas using a controversial technique called hydraulic fracturing, or fracking for short.
So what effect will the resumption of testing and subsequent fracking have on the Fylde area?
Job creation
Steve Pye, chairman of Fylde Federation of Small Businesses, believes fracking could be a boon for Blackpool and the surrounding area.
He said: "Fracking could totally transform the Fylde coast; it could be even bigger than oil was for Aberdeen.
"New markets generally create jobs, raise the level of skills in an area and drive up wages and property prices and also attract new investment."
The business leader, who lives in Blackpool, said it would also boost both the construction and tourist industries.
He said: "There are so many empty hotels which could be upgraded or new houses built. People could not only bring their skills to the area - they could also bring their families here.
"As long as safety issues are overcome it is a positive step for the economy."
The area has a wealth of highly-skilled engineers qualified to take up jobs created if fracking goes ahead, according to the head of engineering and computing at Blackpool and The Fylde College.
'Huge risks'
Simon Hughes said: "Obviously it has to be executed safely but creating employment locally and enhancing the economy is always good news, particularly in light of job cuts at BAE Systems in Lancashire.
"We are not fracking experts but we would tailor courses like we do with many other industries we support."
Mechatronics student Paul Machen, 37, from Blackpool, said: "Obviously it has to be safe but I'd be disappointed if it didn't go ahead here.
"It would be great if Lancashire was at the forefront of it and I didn't have to move my family away."
However, many people are worried about the safety of the fracking process and the potential harm it could do to the Fylde coast.
Tina Rothery of Residents Against Fylde Fracking (RAFF), one of numerous local anti-fracking groups, said the process posed "huge risks to the environment".
She said: "It will entirely alter the character of the Fylde - it will be unrecognisable.
"There will be a huge increase in traffic - with more than 350 vehicles going to each well per frack, house prices will drop, it will be harder to get insurance as people living near wells have found elsewhere and it will kill tourism.
"Who is going to come to a place where there are methane gas emissions and an industrial volume of traffic containing flowback water containing chemicals and radioactivity?
"The trade offs for all these risks and sacrificing agricultural land and tourism is a promise of cheap gas and I've been told just 2700 jobs over nine years. Whoop-de-doo!"
Mrs Rothery, from Blackpool, said the government had "railroaded shale gas exploration through without proper public consultation".
Residents at Lytham's Cypress Point estate, the nearest residential area to Anna's Road site in St Annes, have mixed views.
Helicopter pilot David McCowan said he can see the lights from the site at night from his back window.
He said: "I'm not worried because it isn't on a massive scale; it is initial probing.
"Cuadrilla have sent regular updates through the post about progress and safety so we are informed.
"I would like more research of the long-term effects on an area if they don't find shale gas and abandon it."
Retired Flora Campbell, who also lives on the Cypress Point estate, said: "We don't know enough about the damage it could do to the infrastructure of the estate.
"I would rather it wasn't done on our doorstep - we have enough problems here with it being built on marshland."
Estate agent Richard Wilson said fracking would definitely impact on property prices in the area.
He said: "It's not affected my sales but I have heard of other estate agents already who have had sales fall through near the Anna's Road site because of it."
However, even though the government has announced testing of shale gas can continue, Cuadrilla said there would be a consultation and another licence required before fracking can go ahead.