Willowbank Nursing Home staff in £1m EuroMillions win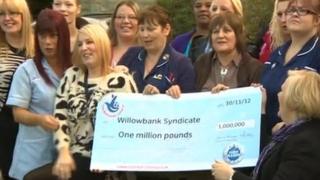 Staff at a nursing home in Lancashire are celebrating after a win on the EuroMillions lottery.
The 34 staff from the Willowbank Nursing Home in Burnley had only been playing for about 12 weeks.
Their lucky dip ticket on the EuroMillions draw on Friday proved to be a winner, with each of them receiving nearly £30,000.
Leader of the syndicate and care home manager Diane Ireland said: "I just couldn't believe it."
"I'm so glad for all the staff here who work so hard and are so dedicated," she added.
"We'll all have a really, really good Christmas and push the boat out."
Many of the winners say they will carry on working at the care home and continue playing the lottery - their syndicate has now grown to 50 members.
Plans for the money include early retirement, gifts for family, trips to America and buying a horse.