Measles case confirmed at Ormskirk hospital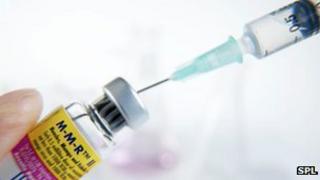 A case of measles has been confirmed at Ormskirk Hospital, and three more suspected cases are being investigated.
More than 600 cases have been confirmed in the North West this year, with most on Merseyside and in west Lancashire.
Southport and Ormskirk Hospital NHS Trust said the confirmed case was a child who had attended the hospital's accident and emergency unit.
A further two suspected cases, one adult and one child, were seen by the trust on Saturday.
The trust also manages Southport and Formby District General Hospital and many community healthcare services for adults in Southport, Formby and west Lancashire.
Dr Geraldine Boocock, medical director of the trust, said: "Measles is an avoidable viral illness that is highly infectious and spreads easily among people who are not protected by two doses of MMR vaccine.
"Although most people will get over measles without too many problems, a significant number will develop serious complications including ear infection, diarrhoea, pneumonia or meningitis.
"People who suspect they or a family member has measles should telephone their GP before attending GP surgeries, NHS walk-in centres or hospital A and E departments.
"This allows arrangements to be made in advance to minimise the measles patients' contact with other people who may be vulnerable to infection."