Burnley has 'highest empty house percentage in England'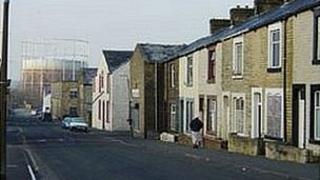 Burnley in Lancashire has the highest proportion of empty houses in England, according to statistics released.
The survey conducted by charity Empty Homes shows almost 3,000 properties (7.36%) are empty in the town.
Lancashire is also the county with the highest percentage of vacant properties, with one in 20 houses empty (4.81%).
Of 655,450 dwellings in Lancashire, 31,557 are empty.
Hyndburn (7.03%), Pendle (6.43%) and Blackburn with Darwen (5.80%) are also found to have high numbers of empty properties.
'Save the best'
Director of economic regeneration at Burnley Council Mike Cook said the town had a serious problem in inner areas but was "making good progress".
Mr Cook said: "We are working with partners to try and turn round these areas and save and improve the best of the housing and replace the old housing, which is never going to be suitable with new [builds]."
He added: "We have house builders building and, crucially, selling new houses."
David Ireland from the Empty Homes charity said utilising vacant houses was the answer, not building new ones in Lancashire.
'Muddy fields'
He said: "You can get people living in these houses again.
"Although there are a lot of empty homes there are a lot of houses needed in Lancashire because there is a lot of homelessness and a lot of people living in temporary houses because they can't actually get homes.
"The housing market has changed and if you pull down these houses all you'll end up with is muddy fields for years to come."
In March, the government gave £4.8m to a project to repair and renovate 474 empty homes across Rossendale, Burnley, Blackburn with Darwen, Pendle and Hyndburn.
The funding was aimed at bringing long-term empty properties back in use before March 2015.