Two jailed for attack on elderly man in Lancashire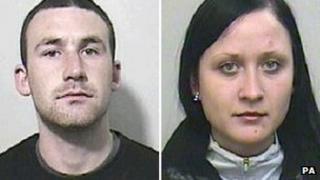 Two people who violently attacked a frail 89-year-old and ransacked his Lancashire home have been jailed.
Bevin Boy Arnold Hilton told his son "I'm not going to make it" when he was found collapsed at his home in Upholland after the attack on 20 March.
Laurynas Dauksas, 25, and Aurelisa Galdikaite, 23, both of Bronte Close in Worsley Mesnes, Wigan, and originally from Lithuania, admitted robbery.
Liverpool Crown Court sentenced them to 11 and nine years respectively.
A separate hearing was held by the court before sentencing, over the extent of the violence used.
Paul Becker, prosecuting, earlier told the court Mr Hilton's bruising indicated he was punched and kicked in the head, chest and shoulders, and slapped around the head.
'Evil, despicable offence'
Since the attack Mr Hilton has been unable to return to his home and is now living in a care home.
Judge David Aubrey QC told the pair: "This was an evil, despicable offence.
"You have, in effect, destroyed his life. You destroyed him mercifully, not with the ending of his life, but he believed it was going to occur.
"When his son arrived to discover him, collapsed in his bedroom, he uttered the words to his son: 'I'm not going to make it'.
"Fortunately he did, but he never made it back to his own home and he never will make it back to his own home."
Speaking outside court, Stuart Hilton said his father, who has five children, 10 grandchildren and one great-grandchild, had changed drastically since the attack.
Mr Hilton, 43, of Preston, said: "Up until this happened, he used to travel two miles on the bus from his house to his pub to see his pals and then get it back.
'Disgraceful attack'
"He's gone from going out three or four times a week to living in a care home and having 24-hour care."
In police interviews, Dauksas, who was jailed for 12 weeks in December 2011 for taking a vehicle without the owner's permission and failing to surrender, claimed he and Galdikaite got drunk, went to Skelmersdale looking for her missing dog and stumbled across Mr Hilton's home unsecured.
The court heard Galdikaite's young child had been taken to Lithuania after her arrest.
Det Insp Marc Nasser said: "Stuart Hilton calls in to see his father as a matter of routine en-route to work and to find his father in that state must have been devastating.
"This was a disgraceful attack on an innocent, defenceless and vulnerable man who has been left traumatized and confused by the attack.
"The level of violence used was beyond comprehension and I am disgusted and appalled that anyone could do this."
As both defendants received sentences longer than 12 months, they will face automatic deportation on their release.