Michael Gove: Lancashire primary schools need to improve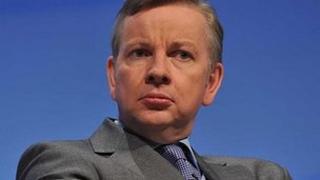 The education secretary has said standards in Lancashire's primary schools are not good enough.
In a letter to local MPs, Michael Gove said urgent action was needed as too many pupils were not getting the good start in education they need.
A Department for Education (DfE) spokesman said academies would be the "best way to drive school improvement".
But Lancashire County Council (LCC) said its schools "consistently perform better than the national average".
Mr Gove's letter follows criticism by schools commissioner Dr Liz Sidwell, who said in July that 32 Lancashire primary schools could have to become academies unless they improved.
She said she was concerned a third of pupils leaving primary school were below the standard expected in reading, writing and maths.
The DfE spokesman said 44% of pupils on free school meals left primary school unable to "read, write and add up" - 2% more than the national average - and six schools were "in the Ofsted category of special measures".
There are 480 primary schools in Lancashire, of which four are academies.
LCC leader Geoff Driver said he was writing to Mr Gove to "point out the error of his ways".
He said: "Last year, 69% of schools in Lancashire improved compared to the national average of 29%.
"Our schools are doing a marvellous job and improving standards all the time."
Avis Gilmore, regional secretary for the National Union of Teachers, said LCC had given "excellent support to their schools".
"Action to improve is not just turning a school into an academy," she said.
"The fact is there are good and bad academies in just the same way there are brilliant local authority schools and some schools that are struggling."