Cuadrilla fracking survey is propaganda: Protest group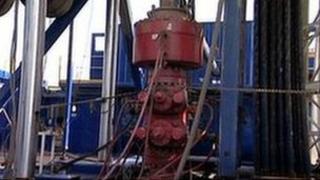 A row has broken out after a survey by a fracking firm in Lancashire suggested a majority of local residents supported gas drilling.
The survey, done for Cuadrilla Resources by BritainThinks, found 44% of respondents from 1,000 people living near drilling sites were in favour.
Twenty three per cent are opposed to the form of shale gas extraction, with 33% undecided, according to the survey.
Gayzer Frackman, from Frack Free Fylde, said the survey was "propaganda".
'Accurate perspective'
Cuadrilla said residents from Blackpool, Fylde and west Lancashire had been interviewed on the telephone "to understand attitudes about shale gas".
Of those people who expressed an opinion, the survey said 65% backed shale gas exploration, while 35% opposed it.
Respondents cited cheaper energy (23%) and job creation (11%) as the two biggest potential benefits of fracking.
The risk of earth tremors (32%) and water pollution (11%) were highlighted as its main potential disadvantages.
Overall, the survey found that knowledge levels about shale gas are low, with 48% of those surveyed saying they knew "very little" or "nothing" about it.
A further 38% believed they knew "a little" about shale gas, with 14% answering they knew "a lot" about the technique.
Francis Egan, chief executive officer of Cuadrilla Resources, said: "There are claims that Lancastrians are against shale exploration but this research provides a more accurate perspective.
"It's clear that, while many people support our plans, others either haven't made up their minds... or want more information."
However, Mr Frackman, who has changed his name by deed poll to boost his ant-fracking campaign, disputes this.
"There is a lot of opposition to fracking in this area.
"I do balanced presentations to inform people about fracking and 90% of people I deliver it to are opposed to it.
"Over 1,000 people have signed my petition and groups from all over the country against it too.
"We have to stop this for the future of our children because it is so dangerous.
"It will cause water contamination, when water which returns back after fracking will be full of dangerous toxins, creating a toxic soup, and radioactive methane gas will pollute air around the wells."
'Very low levels'
In response, a Cuadrilla spokesman said it would test returned water as it came to the surface, as would the Environment Agency.
The spokesman added it may contain "very low levels of naturally occurring radioactive materials" but claimed the levels were not dangerous.
He said as shale gas was the "cleanest fossil fuel" it made sense to use it in place of other carbon fuels.
The government is currently considering a report published in April by an independent panel of experts on the future of fracking in the UK.
The report recommended fracking should continue under stricter regulations.
It follows concerns over the technique after two small earthquakes near Blackpool in April and May 2011.