Lancashire's new PCC Clive Grunshaw officially sworn in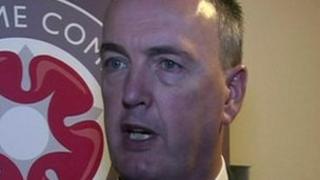 Lancashire's first police and crime commissioner (PCC) has said he wants to be "a critical friend" to the police as he is sworn in.
Clive Grunshaw, who will be on an annual salary of £85,000 for a four-year term, was elected as the force's PCC on Friday.
He was sworn in at the Mitchell & Kenyon Theatre at the University of Central Lancashire in Preston.
Mr Grunshaw will be responsible for setting priorities for the force.
He will also be responsible for hiring the chief constable and overseeing the force's budget.
Mr Grunshaw had indicated that he would devote all his time to his new job, but has since said he has had a rethink.
He said he has decided to carry on as a Wyre councillor and a county councillor rather than spark two by-elections.