Blackpool summer visitors up by 1.7m on 2011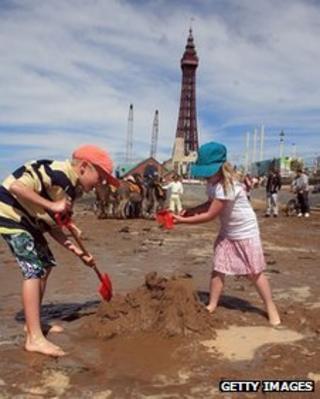 Blackpool has enjoyed its best summer for visitor numbers in four years with seven million visitors, according to a national survey.
The resort had a rise of 1.7m visitors between May and August compared to 2011 although 58% were day-trippers with only 42% staying for one night or more.
Visitor satisfaction ratings were also at a record high of 95%.
Councillor Graham Cain said it was "extremely positive news" particularly in light of "awful" weather.
The statistics were recorded using the national Omnibus survey, carried out by the Office for National Statistics.
Mr Cain, cabinet member for tourism and culture at Blackpool Council, said: "It is particularly encouraging to see such high satisfaction ratings.
"The fact that people are flocking here demonstrates that the substantial investment that has been made in Blackpool's seafront is now paying off."
The Illuminations centenary switch-on event held on the headland beneath the Tower for the first time was the best-attended event during the four-month period with 40,000 visitors.
A spokesman for Blackpool Council said London 2012 Olympians Sophie Hosking, Max Whitlock, Karina Bryant, Beth Tweddle, Greg Rutherford and Luke Campbell "proved a hit" with tourists.
The visitor figures for the period covering the Illuminations will not be available until early 2013.