Ash dieback confirmed in east Lancashire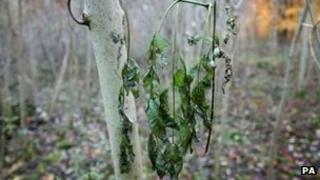 The first confirmed case of ash dieback in north-west England has been found in Lancashire, the Forestry Commission has confirmed.
The tree-rotting disease has been found in a woodland in the east of the county.
Forestry Commission officials have not revealed the exact location but said the trees were young plants that had been recently planted.
There have been 222 confirmed findings of diseased trees to date.
Richard Miller, from Leighton Moss nature reserve in Silverdale, said it was "a worrying development".
"Because the fungus comes from airborne spores, there's no way of stopping it," he said.
The Chalara fraxinea fungus which causes ash dieback was first discovered in Denmark in 2002.
Cases have been confirmed in woodland in Sussex, Berkshire, Bedfordshire, Lincolnshire, Yorkshire and Northumberland as well as Essex and Kent.
Experts believe there is now little chance of stopping it destroying hundreds of thousands of ash trees around the UK and the government has imposed an import ban on ash trees.