Heysham to M6 link road 'could disturb otters'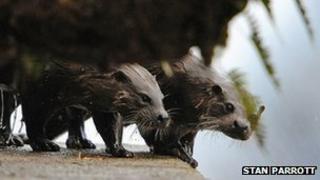 Campaigners opposed to plans for a road linking Heysham in Lancashire to the M6 fear the road would be damaging to otters living in the area.
Transport Solutions for Lancaster and Morecambe (TSLM) said there are about 15 otters living on the banks of the River Lune in Halton.
Lancashire County Council said it has surveyed the area and discussed its proposals with Natural England.
It plans to build two homes - or holts - for the otters on the river bank.
Work to build the road would involve building over woodland in Halton.
As otters are a protected species, any work which disturbs them would have to be cleared by Natural England, the body in charge of protecting and improving the natural environment.
'Improve public transport'
Mike Jacob, who lives in the area, said: "There is tremendous otter activity in this area; the woodland is precious as they live, they breathe and they feed all along the bank of this woodland.
"If it was removed then the otters would disappear.
He added: "Yesterday, I watched a mother play with two cubs and they found some fish and were eating it and tussling over the remains - a wonderful sight.
"It is a real delight and a matter of great pride that we have them here.
"What could happen is that planners could look for an alternative river crossing and there are plenty; they shouldn't come through a woodland of such biodiversity."
David Gate, from TSLM, believes the road should not go ahead at all.
He said: "The road won't solve city congestion; there are far better alternatives that should be examined.
"We should encourage cars off the road on to public transport and improve the roads for lorries going to the Port of Heysham."
Steve McCreesh, director of the project for the council, said the otters are not living near the area of woodland which will be built on.
"They are not actually living close to the construction site, there is no holt near the site," he said.
"Now we know there are otters in the area we will continue doing surveys, and if any happen to move in between now and starting construction then we would have to apply to Natural England before starting the work.
He added: "Otters have multiple homes, they don't just have one home, so they will just move into one of their other homes.
"There are three miles of riverbank on the north side; the established holts are some way away from the site and we will in no way disturb any of those."
A government planning inspector held hearings in the summer and has reported to the secretary of state, who is due to make a decision on whether or not the road can go ahead in the new year.