Blackburn bungalow fire: Two rearrested over man's murder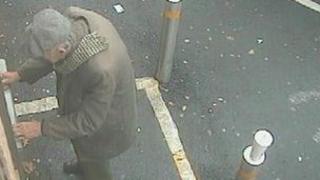 Two people have been rearrested on suspicion of murder after the death of an 88-year-old Blackburn man whose body was found in his home after a fire.
Christopher Proctor was found in the house in Pleckgate Road shortly before 04:00 GMT on 10 November.
Police said he had died before the fire which destroyed his bungalow started.
A woman aged 30 and a man aged 38, both from Blackburn, are being questioned. They had previously been released on bail pending further inquiries.
Six other people arrested in connection with the incident have been released without charge.
Lancashire Police said an exact cause of death had yet to be established but Mr Proctor's death was being treated as suspicious.
Mr Proctor's bank book and wallet have been recovered from separate drains in the area and officers found CCTV showing somebody attempting to withdraw cash from his bank.
Police have released a CCTV image of Mr Proctor using a cash machine at Tesco on Whalley New Road in the town at about 15:00 GMT on 9 November.