Lancashire's new PCC aims to save police officers' jobs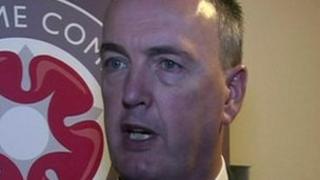 Lancashire's new police and crime commissioner said he will save as many police jobs under threat by budget cuts as possible.
Labour's Clive Grunshaw was elected as Lancashire's PCC on Friday.
One of his first jobs he said is to consider the budget and set out future plans for Lancashire Constabulary.
He said he will work with Chief Constable Steve Finnigan to make sure the force, which has to make £42m of savings, is efficient and effective.
Mr Grunshaw, a former chair of resources on the Lancashire Police Authority which he will replace as PCC, said: "Through this [savings] process we will lose over 500 police officers in Lancashire.
'Shambles from start to finish'
"So initially for the police and crime commissioners what we have got to do is try and protect what we have and how we can have a collaboration with other police forces and how we can deliver the service more efficiently.
"There's not a lot of fat left on the bone - the police are stretched as they are - so it is a difficult job," said Mr Grunshaw who will be on a salary of £85,000 in his four-year term.
He said he was going to speak to Home Secretary Theresa May about more investment into policing.
"We could've achieved the protection of frontline policing with a reduction of 12% to the budget [as opposed to 20%] which is a significant reduction," he said.
The turnout for the ballot was 15% which Mr Grunshaw described as "a shambles right from the start to finish".
"It doesn't invalidate the role but obviously the turnout was unfortunate," he added.
He said he welcomed a review of what went wrong in the elections by the Electoral Commission.
Mr Grunshaw was elected after receiving 79,790 votes (52.1%) in a count of second preference votes at Blackburn's King George's Hall.