Lost Lancashire medal found in Afghan bazaar returned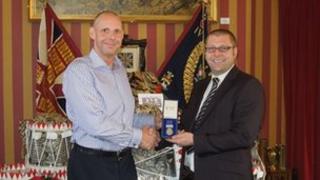 A former soldier from Lancashire who lost a service medal 13 years ago has had it returned after it was found on sale in an Afghan bazaar.
Mick France, who served as a Lance Corporal with the Queen's Lancashire Regiment between 1990 and 1999, last saw the medal when he was in Berlin.
It was spotted at a market in Kabul by Stan Bates, a West Yorkshire Police superintendent advising Afghan police.
He bought the medal and helped get it back to Mr France.
He said: "I regularly trawl the local bazaars in Kabul where India General Service Medals are not uncommon and, while doing so, one of my contacts showed me this medal.
"It was engraved with Mick's name and unit and obviously had a story to tell. So, having bartered the price down, I purchased it and contacted the Duke of Lancaster's Regimental Museum."
Grateful and proud
The Queen's Lancashire Regiment is now part of the Duke of Lancaster's Regiment, after it merged with two other regiments in 2006.
The regiment managed to track Mr France down on Facebook, and he was told about the find.
He has now been presented with his Northern Ireland service medal for a second time in a ceremony at the regiment's headquarters at Fulwood Barracks in Preston.
He said: "I was amazed that my medal had been found in a bazaar in Afghanistan - a place that I never went with my regiment.
"I have been to Northern Ireland and Bosnia, but how it turned up in Afghanistan I will never know.
"I'm so grateful and proud. It's absolutely fantastic to get it back. I probably last saw it in Berlin and can only assume that someone borrowed it to wear and never returned it.
"I've had to apologise to my mum - all my old kit is stored at her house and for years I've accused her of losing my medal!"
Jeff Ashton, Area Secretary for The Duke of Lancaster's Regiment, said: "It's been a pleasure to help get the medal back to its rightful owner.
"We've an impressive collection of our own here at the museum but it's always nice to see medals being worn with pride by the recipient, and Mick assures me he'll be keeping a close eye on it from now on."