Lancashire PCC elections: Labour's Clive Grunshaw wins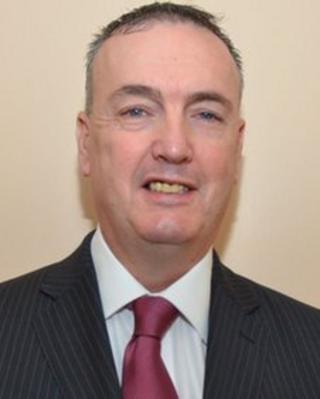 Labour's Clive Grunshaw has been elected Lancashire's first police and crime commissioner (PCC).
He beat Tim Ashton from the Conservative party after second preference votes were counted as neither managed to get 50% of votes.
He will be on a salary of £85,000 and responsible for setting priorities for Lancashire Police, overseeing its budget and hiring the chief constable.
The turnout for the PCC ballot was 15%.
'Deliver proper policing'
Mr Grunshaw, who will hold the role for four years, will officially replace the Lancashire Police Authority (LPA) on 22 November.
The former milkman has been chair of resources on the LPA panel for four years and said his new position was a "huge opportunity to deliver proper policing to the people of Lancashire".
He said it was a "new era for policing" but admitted the turnout was "disappointing".
Mr Grunshaw received 79,790 votes (52.1%) in the second round of the ballot while Mr Ashton received 73, 262 votes (47.9%).
He also topped the first count with 66,017 (39.28%) votes while Mr Ashton received 58,428 (34.76%).
Robert Drown, representing the UK Independence Party, finished third in the ballot with 25,228 votes (15.01%).
Liberal Democrat Afzal Anwar finished last with 18,396 votes (10.95%).
Mr Ashton congratulated Mr Grunshaw for getting elected and said he respected "the people of Lancashire had spoken" in the ballot.
He said: "Policing will be better for this position."
Chief Constable of Lancashire Constabulary, Steve Finnigan, also congratulated Mr Grunshaw on his win.
He said: "I am confident that Clive Grunshaw and I will be able to build a professional and effective working relationship that will help us to collectively ensure that the county remains a safe place in which to live, work and visit."
"I'd also like to pay tribute to the work of the police authority, which has left a strong legacy in place for the commissioner to now progress," added Mr Finnigan.
The result was announced at King George's Hall in Blackburn.
'Crazy to choose mid-November'
Speaking at the count, Blackburn MP Jack Straw said blamed the government for a "lamentable" turnout.
"It is the fault of the government for constructing them in this system in the first place.
"It was crazy to voluntarily choose mid-November for the election. It is cold, it is dark, the clocks have gone back."
The former home secretary said: "This is a very poor start for these police commissioners, whichever party they come from."