Bottle Stop campaign to head to Downing Street over glass laws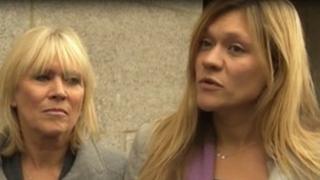 The widow of a man who died after he was slashed with a broken bottle plans to take a petition calling for plastic bottles to Downing Street.
Phillip Sherriff, 37, from Preston, was at a London nightclub in April when Ashley Charles, 26, grabbed a bottle from Mr Sherriff and attacked him.
Charles, from Leicester, was given a life sentence for the murder at the Old Bailey on Friday.
Jane's Sherriff's campaign has helped boost a petition to 112,000 signatures.
She said it aimed to make plastic bottles "uniform across all city centre late-night venues".
"I don't see why some [venues] do and some don't, there should be no reason for that because if they would have been serving plastics at the club Phil was at, then he would still be here."
The father-of-two was attacked at Pulse in Southwark, during an event which included a live performance by singer Jessie J.
Bottle Stop, a Facebook campaign, was started in August after Jane Sherriff met Marjorie Golding.
Polycarbonate alternatives
Marjorie Golding's son Blake was scarred for life after being attacked with a broken bottle outside a Milton Keynes club in 2004.
Blake, who worked as a nightclub doorman, required 50 stitches.
The Golding family set up a petition for plastic bottles and glasses to be used at late-night venues, which Jane Sherriff is supporting.
Jane said: "Originally it had 30,000 signatures, we are now up to about 112,000 signatures so we are going to take the petition to Downing Street in the next couple of weeks.
"There needs to be some good to come out of this, so far there are no winners.
"Even though Ashley Charles has gone to prison, no one has won here, everyone's devastated.
"Hopefully if Bottle Stop can change the law, something good can come out of this situation."
Polycarbonate alternatives to glass bottles and glasses have been tried in a number of city centres across the country, with the pub industry introducing toughened glass to lessen the dangers.