Spitfire sculpture is unveiled in Darwen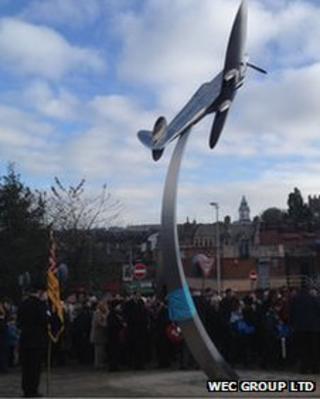 More than 250 people turned out to watch the unveiling of a new war memorial in Lancashire.
The £175,000 stainless steel sculpture of a Spitfire aircraft was officially unveiled at The Green in Darwen.
It was made and donated by Darwen-based WEC Group Ltd, which also supplied the replacement for the top of Darwen Tower which blew off in a storm.
A spokesman for the company said: "It was very well received and there was a really good turnout for the ceremony.
"Darwen was the smallest town in the UK to finance a Spitfire during World War II and the Spitfire memorial will be a lasting reminder of the town's contribution to the war effort."
The Darwen Spitfire memorial sculpture took two years to complete and was handcrafted by WEC Group's apprentices.
The sculpture has a wingspan measuring 3.8 metres (12ft 5ins) and stands 6.9 metres (22ft 7ins) high.