King's Royal Hussars homecoming parade in Leyland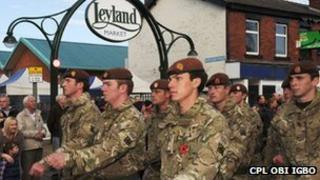 Hundreds of well-wishers lined the streets of a Lancashire town to welcome 250 soldiers back from Afghanistan.
The homecoming parade in Leyland marked the return of the King's Royal Hussars after a six-month tour in Lashkar Gah, Helmand.
The regiment is based in Tidworth, Wiltshire, but most of its recruits are from Lancashire.
The King's Royal Hussars were honoured with the Freedom of South Ribble borough in 1992.
'Poignant weekend'
Lt Col Alex Potts, commanding officer of the King's Royal Hussars, said: "Today has been very special for us because many of our recruits come from [Lancashire].
"Many of our soldiers commute here weekly so it's very nice for all of us to be here in order that we can thank everybody in the area for the support they have given us in what has been a very challenging year."
Mayor of South Ribble, councillor Colin Clark, added: "It is a real pleasure and a privilege to welcome them home.
"This is a very special occasion for me personally, on what is a poignant weekend."