Missing David Guilfoyle: Police find a body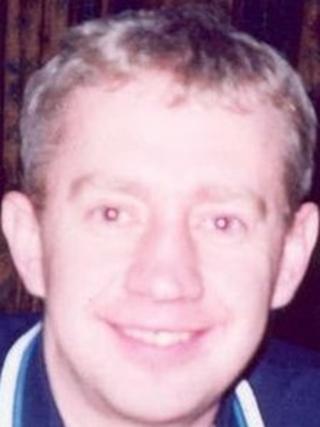 Police searching woods in Lancashire after a confession from the man convicted of David Guilfoyle's murder have found a body.
Mr Guilfoyle, 37, of Accrington, was murdered by Shane Fitzpatrick at his home in May 2005, but his body has never been found.
Fitzpatrick, 42, of Hapton, Burnley, was convicted of murder in July 2006 and jailed for life.
Police said a body was discovered in woods in Bolton-by-Bowland on Friday.
The search of the area started on Thursday after Fitzpatrick, who had previously denied murdering Mr Guilfoyle, confessed to killing him and told officers he had buried his body in a shallow grave in the woods.
The former guillotine operator also told officers he had driven the body out there in the early hours following the murder.
Lancashire Police said it was too early to confirm whether the body was that of Mr Guilfoyle, but his family had been informed of developments and specialist officers were supporting them.
Mr Guilfoyle disappeared after leaving the Grey Horse pub in Whalley Road, Accrington, after the European Champions League Final.
Despite the absence of his body police found a trail of Mr Guilfoyle's blood at his home in Royds Avenue proving he was attacked there.
Fitzpatrick, formerly of Lyndale Road, Hapton, near Burnley, is currently serving a minimum of 20 years in HMP Garth.
He was found guilty at Preston Crown Court.
Prosecutors told the court Fitzpatrick killed Mr Guilfoyle out of revenge after he began seeing his former wife.
Det Supt Paul Withers, who led the search, said when Fitzpatrick made his confession he told officers he had found religion while in prison.
"He said he has had seven years to think about this and he feels now is the right time for him to provide us with this information," Det Supt Withers said.
"He has indicated he wishes David's body be returned to his family."