Leyland concert in honour of Kathleen Ferrier in her centenary year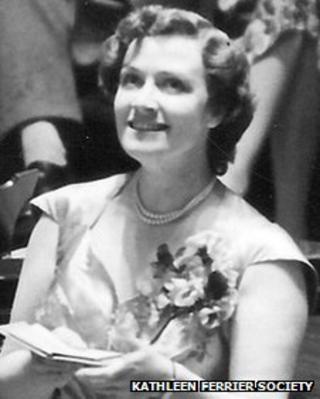 A concert celebrating the life and music of an internationally renowned singer from Lancashire has been held in Leyland in her centenary year.
Contralto singer Kathleen Ferrier was born in Higher Walton in 1912. She had her first singing lessons at Blackburn Cathedral.
The singer went on to tour America and was awarded the CBE in the Queen's honours list. She died in 1953.
The concert at St Andrew's Parish Church also featured her memorabilia.
'Greatest female singer'
Chorley and District Choral Society hosted the event starring mezzo-soprano Joyce Tindsley and accompanist Peter Morrison.
The contralto's goddaughter, Kathleen Hopcroft, attended the event.
Secretary of the society Janette Clough said: "Kathleen Ferrier was the greatest female singer we have ever produced. There is no-one quite like her.
"We decided to put on this event because we wanted to do something in her honour in the 100th anniversary year of her birth."
She added: "There was an exhibition of her memorabilia telling the story of her life and then was musical performances of her best known work."
South Ribble Borough Council and the Kathleen Ferrier Society helped organise the event.
Formed in 1993 to mark the 40th anniversary of her death, it has more than 200 members.
The Kathleen Ferrier Memorial Scholarship Fund founded in 1953, the year of her death, is still going.