Driver reverses into Preston Samaritans shop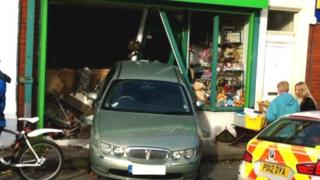 A driver has been treated for shock after accidentally reversing his car through a charity shop window in Preston.
The crash involving a Rover car happened at about 12:45 GMT at the Samaritans shop on Blackpool Road.
The driver was taken to Royal Preston Hospital to be checked over. Two people inside the shop were also treated at the scene for shock.
John Arney, a friend of the driver, said he had got "stuck in reverse".
Mr Arney, who had just eaten lunch with the driver in a cafe on the opposite side of the road, said: "It just went to full revs and he shot off backwards in between cars."
Gavin Ramage was cycling along the road and narrowly avoided the vehicle.
He said: "He [the driver] seemed to be ok, a bit shocked but ok, he must have been doing about 25 miles an hour backwards."
A third unnamed witness said the vehicle only just missed two cars.
Preston City Council sent a building inspector to assess any structural damage.