Lancaster Moor Hospital to be redeveloped into homes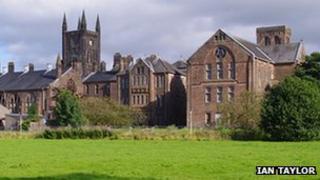 A Grade II listed former hospital in Lancaster is to be converted into homes in a deal worth nearly £68m.
The Lancaster Moor Hospital building on Quernmore Road will be restored and 440 homes will be built in the surrounding woodlands.
The Homes and Communities Agency (HCA) which owns the site struggled to find a developer during the economic downturn.
Deborah McLaughlin from the HCA said gaining £3m of government funding had made the plan viable.
Outline planning permission has been granted for the new homes and the conversion of the former hospital annexe and the adjoining Campbell House, into apartments and houses.
Ms McLaughlin said: "It's a really challenging and complex site, but the government money means we can now start work."
Andrew Dobson from Lancaster City Council said redeveloping the "important Lancaster landmark" would make "a valuable contribution" to the city.
Designed by architect Arnold Kershaw, Lancaster Moor was built in 1882 as an annexe to accommodate mental health patients.
It was later used by the NHS before closing in 1999.
Work is expected to start later this month.