Preston North End screen images of wanted man Lee Cyrus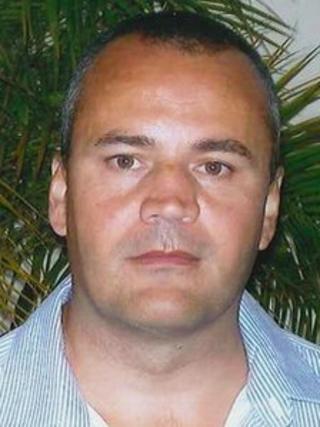 The face of a "dangerous and predatory" criminal who went missing from jail has been shown on the big screen at Preston North End's Deepdale Stadium.
Lee Cyrus, 47, from Preston, was serving life for robbery when he failed to return to a Lincolnshire open prison while on day release on 9 October.
Cyrus, also known as Ivan Leach, went missing from the North Sea Camp open prison near Boston.
His image was seen by fans during the team's FA Cup fixture with Yeovil Town.
Wanted posters have been distributed across England and Scotland to appear in public buildings and on buses, with more than 50 officers working on finding him.
Officers confirmed they were working with other football clubs across the country to feature the appeal within match programmes.
CCTV footage taken in Preston on 17 October is believed to show Cyrus.
Lancashire Police think he was walking down Friargate minutes after a man matching his description made sexual advances to two girls at a bus stop on Lancaster Road in the city centre.
The girls boarded their bus and reported the matter.
Police said Cyrus was believed to have carried out a sexual attack in Tayside after he absconded.
Direct appeal
The last report sighting of Cyrus was in Nottingham on 20 October, but police have received over 100 possible sightings since he went missing.
Det Sup Paul Withers, from Lancashire Police, said they were working with forces from around the country to track Cyrus down.
"I want to reassure people that we follow up every potential sighting of him so I'd urge people to call police if you think you see him or know of his current whereabouts.
"I would also like to warn anyone who may be harbouring him that if they know where he is, and they fail to notify police, action will be taken against them.
''At the same time I would appeal directly to Leach, wherever he is, to hand himself in."
Cyrus was jailed in 2005 for robbing a 90-year-old woman in her home in Ribbleton, Preston.
He is described as white, about 5ft 11ins tall (1.8m), of stocky build with cropped hair and hazel eyes.
He also has a distinctive scar on his top lip.
A Crimestoppers' £3,000 reward has been offered for information leading to his arrest and successful conviction.