Anti-violence campaign rolled out across Lancashire pubs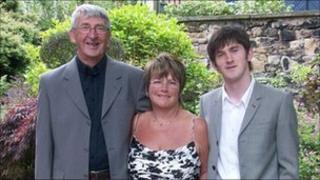 A campaign started by a couple whose son was killed by one punch is being promoted in pubs across Lancashire.
Adam Rogers, 24, died from head injuries after he was attacked on a night out in Blackburn in 2009.
David and Pat Rogers started their campaign to urge young people not to get involved in drunken violence.
The charity, called Every Action Has Consequences, has now joined with police and trading standards to spread their message in pubs and clubs.
A total of 7,000 posters and 70,000 beer mats have been printed and are being sent to pubs and clubs in Lancashire to publicise the campaign in the run-up to Christmas.
'Dangerous state'
Licensees will also be encouraged to support a scheme which reminds people who appear to be under 25 that they will be asked for identification to buy alcohol.
The charity is aimed at challenging young people's perceptions of violence and make them think about the consequences of their actions.
It has already provided DVDs and worksheets to be used in schools and colleges to raise awareness of the consequences of anti-social and violent behaviour.
Mr and Mrs Rogers have also taken the campaign to prisons to share their son's story.
Mr Rogers, from Blackburn, said: "It's not a new thing that people like to go out in the evening and have a drink or two and enjoy themselves.
"But it does seem to be now, the point of going out for some young people is to get absolutely legless. It's a very dangerous state to be in."
'Better place'
Adam Rogers, a ladies' football club coach, was out with a group of friends when he was attacked by William Upton, from Rishton.
Upton, who was 16 at the time, was convicted of manslaughter and sentenced to four years in prison, of which he served 18 months.
Pat Rogers added: "Alcohol misuse can make you vulnerable in many ways and getting this message out to as wide an audience as possible is important.
"We know from the work we have done so far that we can make a real impact - and we sincerely hope that Adam will continue to make the world a better place even after his death."