Lancaster machete gang jailed for robbing poker pot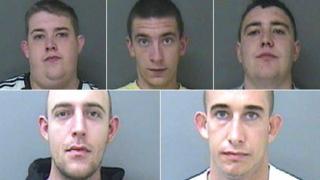 Five members of a Lancaster gang who threatened a group of poker players and a woman with machetes then robbed them have been jailed.
The attack happened at a house on Robin Crescent, Heysham, on 22 May 2011 after the gang found out about the game.
Richard Diprose, 25, Harry Ralphs, 21, Lee McDermott, 26, Jason Diprose, 26, and Neil Bradley, 21, were jailed for robbery.
All five pleaded guilty at Preston Crown Court to conspiracy to rob.
Police said once the gang discovered there was a large amount of money at the poker game they came up with a plan to rob the victims.
The homeowner answered the door and he was confronted by a man holding a pizza box.
He was then sprayed in the eyes with a noxious substance.
'A terrifying ordeal'
The gang then burst in wearing black balaclavas and some of them were carrying machetes, said police.
One went upstairs and threatened a 30-year-old woman, who was dragged out of her bed.
The gang stole about £2,000 and mobile phones before they made off.
The female victim of the robbery described it as "a terrifying ordeal" and said it has had a great effect on her.
"It was horrific to have men force their way into my home with machetes and balaclavas.
"I am relieved that these men are now behind bars as it means I can move on with my life."
She added: "I have never had any dealings with the police before this and I would like to thank them for the help and the support they have given me both during the investigation and when the case came to court."
Richard Diprose, of Austwick Road, was given eight and a half years.
Ralphs, from Dee Road, was jailed for seven years and eight months for the robbery. He was also sentenced for two burglaries and had 43 other offences taken into consideration. His total sentence was nine years and four months.
Bradley, of Austwick Road, was sentenced to seven years and eight months for the robbery. Bradley was also given a consecutive sentence for possessing a shotgun and a bladed instrument, found in a holdall on Austwick Road in June 2011. His total sentence was nine years and a half years.
Lee McDermott, of Haylot Square, was jailed for five years and nine months.
'Plunder cash'
Jason Diprose, formerly of Clare Road, is already in prison for fraud and supplying drugs. He was sentenced to five years to run consecutively with the 16-year sentence he is currently serving.
Lancashire Police said the gang had caused many problems, not just on the Ryelands estate where they lived but also across the area.
Det Sgt Colin Forsyth said: "The raid was a frightening experience for those who were at the house, particularly the young woman who was woken up by a masked man."
He added: "The sentences they have been given reflect the severity of their actions and the fact that they used violence, threats and intimidation while armed with weapons in order to plunder a quick source of cash."