Mike Jones: Funeral for stabbed New York Red Bulls coach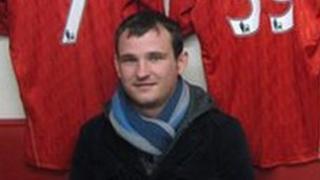 A funeral service has been held for a Lancashire football coach stabbed to death in New York.
Mike Jones, 25, who worked with the New York Red Bulls juniors squad, was stabbed to death in Manhattan on 7 October.
The service took place at his local church Holy Trinity, Tarleton, Preston.
Hundreds joined a walk from the clubhouse of his former club, Tarleton Corinthians FC, to the service.
Lindsay Bowler, the landlady of Mr Jones' former local pub, the Cock and Bottle, where a reception is being held, said the whole village had come together to celebrate his life.
'Terrible loss'
She said: "The traffic in the village came to a standstill and the church was packed. The service was relayed by loudspeakers so people who couldn't get in could hear it.
"People from the village have been arriving from eight this morning with cakes and things for the buffet because they wanted to help."
A film of Jonesy, as he was known, is being shown and there will be a memorial book for mourners to sign at the reception.
Tarleton Corinthians FC secretary Helen Dicker said: "We all gathered at the club to pay tribute to him. We are all devastated.
"Everybody remembers him as a happy, smiley dancer. It is a terrible loss."
Tarleton Corinthians FC, where he was still registered to play, paid tribute to him by staging a minute's silence before their game against Baxters FC on 13 October.
Mr Jones had coached the New York Red Bulls youth team for five years and lived in Westchester in New York for 10 months a year.
He was a former pupil of Tarleton High School and studied sports science at Edge Hill University before he got the job with the New York Red Bulls, one of the leading teams in US Major League Soccer (MLS).
Memorial book
Five hundred mourners attended a memorial service for him at First Baptist Church in White Plains, New York on 10 October.
A minute's applause was also staged for him at New York Red Bulls' game against Sporting Kansas City and players wore Jonesy shirts and black armbands. The club have opened a memorial book in honour of him.
The Westchester Youth Soccer League in north New York, where Mr Jones also coached several clubs, have held a minute's silence at all their games following his death.
Stacey Reinhardt, whose son was coached by him, has set up the Mike Jones Memorial Fund to support his family and "to carry on his legacy".
New York Police Department (NYPD) said Mr Jones was found on a street near 25 West 14th Street in the early hours of 7 October with a severed ear and stab wounds to his head and neck.
Police are searching for suspect Orlando Orea, 32, in Mexico, where he fled two days after the killing.
One line of inquiry is that the football coach was mistaken for someone the suspect had argued with in a nearby bar.