Six rescued in Blackpool from suspicious house fire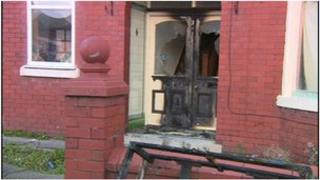 Six people were rescued from a house in Blackpool after a mattress was placed against the front door and set alight.
Firefighters were called to Lune Grove in South Shore at 04:30 BST and rescued four men and two women.
Lancashire Fire and Rescue Service said no-one was seriously injured but some were treated at the scene for slight smoke inhalation and shock.
A spokesman said it was one of four suspicious fires started in the area in the early hours.
Two wheelie bins were set alight on Lune Grove and Queen Victoria Road at about 04:22 BST.
A fence around a back garden in Westmorland Avenue was set on fire at about the same time.
At the house fire in Lune Grove, the fire service said all the occupants of the house are aged between 17 and 22.
Lancashire Police said all the fires are being treated as suspicious and are appealing for witnesses to contact them.