Royal Lancaster Infirmary improving conditions for patients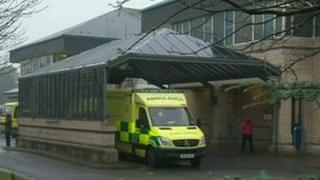 Improvements to conditions for patients are being made after a series of critical inspections at a Lancashire hospital.
Patients at the Royal Lancaster Infirmary (RLI) are being moved to new units as part of plans.
Care Quality Commission reports found patients "at risk of poor care" but a report earlier this month confirmed care now meets essential standards.
The hospital is re-organising the wards to improve patient accommodation.
University Hospitals of Morecambe Bay NHS Foundation Trust (UHMBT) said a new temporary ward block would open on 1 November, as part of a larger re-organisation of wards in the Centenary Building.
'Greater flexibility'
Patients being cared for on ward 30 and wards 5 and 6 in Medical Unit 1 will move into the new building later.
Those on several other wards will be moved in stages in the next week, but the trust said all patients and their families had been informed.
The ground floor of the new unit will be known as the Acute Medical Unit, integrating the Medical Assessment Unit (MAU), a larger ambulatory care area and short stay beds for patients who require an admission of up to 72 hours.
The first floor of the unit will house a general medical ward, known as ward 39.
The trust is also introducing new visiting times at the hospital, with visitors allowed in the new areas between 14:00 and 16:00 and between 19:00 and 20:00.
Sir David Henshaw, Chair, UHMBT, said: "These moves are part of our wider improvement programme 'Transforming Morecambe Bay' and will significantly improve the quality of the environment for patients.
"It will offer a much better quality of accommodation, with more single rooms and en-suite facilities with walk in showers, enhancing privacy and helping to maintain a sense of personal dignity for patients.
"These will also improve our ability to control infections and offer greater flexibility around mixed sex accommodation."