Sharon Lyndsay jailed for hot iron attack in Blackpool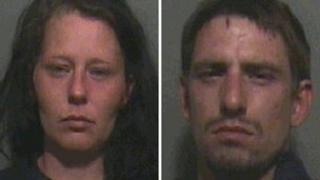 A woman who stubbed cigarettes out on a man's eyes and face and scarred his legs with an iron in Blackpool has been jailed for six-and-a-half years.
Sharon Lyndsay claimed the 41-year-old man from Rochdale made unwanted sexual advances to her on a night out in May.
But Preston Crown Court heard she had invited him back to co-defendant Adam Marsden's house in Reads Avenue, where the assault took place.
Marsden, who admitted the attack along with Lyndsay, was jailed for 20 months.
Lyndsay, 31, of Tyrone Avenue, Blackpool, admitted wounding while Marsden, 27, pleaded guilty to causing actual bodily harm.
Marsden was given an extra three months for breaching a suspended sentence.
'Bullying and humiliation'
The court heard the 41-year-old victim, who suffered from epilepsy, had visited the Lancashire resort to stay with friends when the attack took place on 15 May.
He met Lyndsay while out drinking and later went back to Marsden's home.
Unprovoked, Marsden punched the victim in the head and then climbed on top of him to ram a pen in his ear.
Lyndsay then took over before she stole £180 from the man's pockets.
He refused to go to police for fear of reprisals but his mother stepped in and reported the matter.
Addressing Lyndsay, the Recorder of Preston, Judge Anthony Russell, said: "This was a nasty example of bullying and humiliation of someone who was overwhelmed because he was intoxicated and outnumbered.
"It was a sustained and repeated assault of a vulnerable victim."
Lyndsay received a six-month concurrent sentence for theft which she also admitted.