Princess Anne unveils Fleetwood Nautical College redevelopment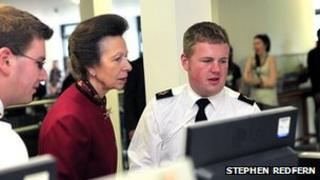 An £8.2m redevelopment of the Nautical College in Fleetwood has been officially unveiled by Princess Anne.
The college, set up in 1892, provides specialist training for the merchant navy and offshore energy industry up to degree level.
The redevelopment includes an overhaul of the campus and the engine room ship simulator and a new learning centre.
Nautical College boss John Matthews said "the royal seal of approval was a feather in the cap for the college".
Mr Matthews said: "The Princes Royal has a nautical background and she was genuinely very interested in what goes on at the college and she was very knowledgeable."
Attack by pirates
As well as touring the new facilities and meeting students and staff, the Princess Royal watched an underwater helicopter escape training exercise, which Prince William completed last year at the college.
Mr Matthews said a £300,000 investment in the virtual ship engine room maintains the college's reputation as a leader in maritime training.
The ship simulator can replicate all sorts of conditions mariners may face at sea, from storms to an attack by pirates.
He said: "The equipment, currently the most advanced of its kind in Europe, gives trainees the illusion of being on board a ship and marine engineers can train for the worst-ever-case scenario or concentrate on specific faults."
Mr Matthews said there had been a 20% increase in students this year despite extensive building work taking place on the campus, which is part of Blackpool and the Fylde College.