Christians 'frightened to speak about faith'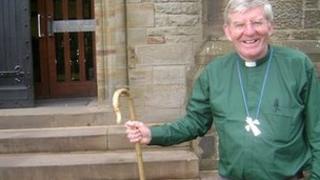 A Christian group has claimed that some people in Lancashire are frightened of speaking out about their faith because they fear reprisals.
The Christian Legal Centre, based in London, claim they have had Lancashire people contact them after openly endorsing Christian principles.
The claims were made at the launch of an Awake Arise group held in Preston.
Awake Arise is a nationwide movement aimed at better integrating Christian principles into society.
Andrea Williams, chief executive of Christian Concern at the Christian Legal Centre, said: "There are people from Lancashire who have come to the Christian Legal Centre because as a result of living and speaking out about their faith they have they have found themselves in trouble with the law."
Freedom to speak
Ms Williams, who did not detail the cases, said some Christians are reticent to express their faith.
"People are increasingly frightened to talk about Jesus Christ in the workplace because if they do they are sanctioned," she said.
The Awake Arise meeting was held at Preston's Myerscough College and was organised by college governor Carolyn Johnson.
Speaking about Britain, Ms Johnson said: "We feel people need to be aware of the state of the nation. There are so many issues and so many young people who are affected.
"There are all kinds of things that I see on a regular basis and the young people need to see what the Christian principles and to see there are answers to those questions."
Pastor Rob Joy, from Christian group Rising Generation, wants people to evangelize wherever they are.
He told the meeting: "I do believe that it is wrong that people can't share their faith. Now if someone says to me they don't want to hear that, then you need to back away."
Four British workers are currently waiting to hear the verdicts of their separate cases which they have taken to the European Court of Human Rights after losing employment tribunals related to their beliefs.
Pastor Rob wants the freedom to speak openly in the workplace or on medical premises.
"The fact you can't even mention the name of Jesus Christ in somewhere like a dentist's surgery is, to me, a big issue," he said.
The Bishop of Lancaster, the Right Reverend Geoff Pearson, said the increased amount of secularism in society was partly responsible for the increased Christian worries.
Bishop Pearson told BBC Lancashire: "If you look at the way certain of our culture have moved away from where the church is, I think the worries of some people are justified."
Ms Williams said some Christians were frightened because their tone can be seen as politically incorrect.
She said: "People are frightened of talking about sexual ethics because they know if they do so they will be viewed as hateful, as phobic, as bigots. They are not.
"They are just speaking God's truth, but that is how they will be viewed."
The Bishop of Lancaster said the Awake Arise meeting was about encouraging each other: "We don't need to be afraid. If we are called to be the salt and light in our communities then we need to encourage each other to be that salt, which needs to shine out freely in society."
Joe Wilson presents the faith programme on BBC Radio Lancashire from 06:00 each Sunday.