Student officer suspended for April Jones tweet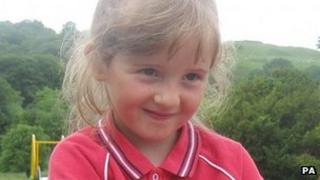 A students' union has launched an investigation after an official was suspended for tweeting a "repugnant" comment about missing girl April Jones.
Joey Guy was suspended from his post as education officer at the University of Central Lancashire's Students' Union after posting the comment on Twitter.
He has since apologised for the comment and said it was "something that should not be joked about".
Union president Edd Graham-Hyde said the tweet had been "reprehensible".
Mr Guy was suspended from the role after making the comment on his personal Twitter account, which has since been closed.
In a statement on the union's website, he said he could "only apologise for what I have done".
"I sincerely regret the content of my Twitter account. I am someone who has never had to go through the pain and turmoil of those involved and that is something that should not be joked about," he said.
He added that he wanted to "take this opportunity to learn from my mistakes and develop personally and also do more to help others".
"I ask for your forgiveness at this time and your understanding that this was a mistake and one I hope to rectify with my future actions."
'Morally abhorrent'
Mr Graham-Hyde said the union's student affairs committee had "taken advice on the serious issues this matter raises and the board will meet shortly to consider the advice received, the findings of an investigation and the next steps".
He said the union found his Mr Guy's comments "totally reprehensible and we do not support them professionally or personally".
"We find these comments both morally abhorrent and repugnant."
The university's deputy vice-chancellor Professor David Phoenix said the institution "completely condemns the offensive tweets [and] agree with the view expressed that these Twitter comments are totally reprehensible".
He added that the union was "a democratic body that exists independently from the university and therefore we are not involved in any decisions relating to this matter".
Lancashire Police said it had no plans to investigate the comment.
Mr Guy's suspension follows the jailing of Chorley man Matthew Woods for 12 weeks for making a number of derogatory Facebook posts about April and the missing Madeleine McCann.
Police in Wales are continuing to search for five-year-old April, who was last seen in a street near her home in Machynlleth, Powys, on 1 October.