Blackpool and Wyre sea wall rebuild plans submitted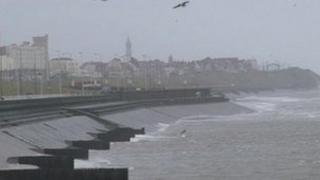 Plans for a £79m sea defence scheme to protect the Fylde coastline have been submitted to the Environment Agency.
Blackpool and Wyre Councils have submitted a joint application to improve the sea wall between Anchorsholme and Rossall Point.
The councils said the scheme would protect more than 12,000 homes from the risk of flooding.
Local people are being asked to pledge their support for the scheme on the council's websites.
The Environment Agency is due to make a decision next May.
'Huge benefits'
In Anchorsholme, a new 1km (0.6 mile) length of sea wall is needed and in Rossall a 1.9km (1.18 mile) length of coastal defence needs rebuilding.
Gary Coleman, cabinet member for regeneration at Blackpool Council, said: "A huge amount of work has gone into planning these schemes, we hope it will enable us to access £24m to build new defences in Anchorsholme and also the £55m funding for the Rossall scheme for our neighbours.
"We think we've put a really good case together and by working with Wyre Council we've shown how we can achieve value for money and complete the projects quicker by combining both authorities' in-house expertise.
Roger Berry, cabinet member with responsibility for sea defences at Wyre Council, said: "The elements aren't confined by boundaries so we won't be either.
"Blackpool and Wyre share one coastline and a breach of the seawall at one end will quickly affect the other, so working together is the smart thing to do.
"There's no doubt locally that both these projects are vital for the future protection of our seaside communities."