Liquid nitrogen drinks ban calls after Gaby Scanlon case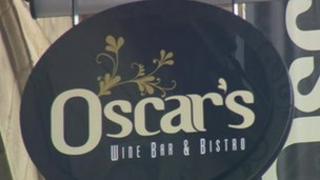 Calls have been made for an inquiry into whether liquid nitrogen in cocktails should be banned after a teenager almost died drinking one.
Lancaster Council has written to the health secretary asking him to investigate the risks to drinkers.
Gaby Scanlon, 18, had her stomach removed in an emergency operation after drinking a cocktail containing the frozen vapour at Lancaster bar Oscar's.
The use of liquid nitrogen in bars is not illegal.
Paul Aitchison, who chairs the licensing committee said: "I felt there is a need for an investigation into the dangers liquid nitrogen poses to public health when consumed with alcohol.
'Quite scary'
Mr Aitchison said he was shocked when he heard about the incident as he has tried the same drink himself.
"It was quite scary to think that it could have possibly happened to me," he added.
"I thought it sounded interesting, that's probably one of the draws. You assume the drinks served in licensed premises will be safe.
"I didn't have an adverse reaction to it. Unfortunately Gaby has and my heart goes out to her and I hope that she gets better."
David Morris, the Conservative MP for Morecambe and Lunesdale, has previously said it was a "shocking incident" and that using liquid nitrogen in cocktails "should be banned forthwith".
Ms Scanlon, of Heysham in Lancashire, remains in hospital. The bar has suspended sales of the drink.
An investigation by Lancashire Police and Lancaster City Council is under way.