Mike Jones stabbing: Support for family in Tarleton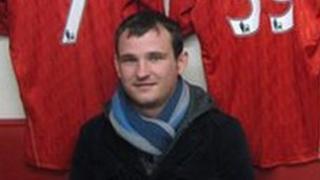 The father of a Lancashire football coach murdered in New York has paid tribute to people for their support both at home and in the US.
Mike Jones, 25, from Tarleton, who coached the New York Red Bulls juniors, was stabbed in a street in Manhattan in the early hours of last Sunday.
Perry Jones said: "Everyone has been very supportive - both people here in Tarleton and people in New York."
Orlando Orea, 32, the man suspected of his murder, fled to Mexico on Tuesday.
The outside of the family home in the quaint west Lancashire village has become a shrine to Mr Jones, with flowers from well-wishers and some of his football trophies on display.
Sympathy cards have also been pouring in from all over the world.
The Liverpool fan, who was known as Jonesy, had coached the New York Red Bulls youth team for five years and lived in Westchester in New York for 10 months of the year.
His father explained how the former Edge Hill University sport science student came to be a coach at one of the top clubs in Major League Soccer (MLS).
"Mike spotted a job advert for it in the UK. He applied for it and got an interview then got through to the selection stage and was successful," said Mr Jones.
"He took his opportunity and worked hard to build on it as much as he could. Who knows where it would have taken him?"
Before Mr Jones started working in the US, he played for his village football team Tarleton Corinthians FC from the age of 17.
He was still registered for the club so he could play when he was visiting his family.
The club held a minute's silence in honour of him before Saturday's home game against Baxters FC.
Club secretary Betty Parkinson said: "It would be nice for a good turnout for the game to pay their respects to such a lovely person."
A similar tribute will take place before all matches played this weekend in the Westchester Youth Soccer League in north New York, where Mr Jones also coached several clubs.
'Tears shed'
Lindsay Bowler, the landlady of his old local pub, the Cock and Bottle, said friends and team-mates had been hit hard by his death.
"The atmosphere has been so sad in here since the news broke. He was in here a few weeks ago with his old team-mates when he came back for a wedding.
"I have only been here six months but he was obviously very well thought of and very liked," said Ms Bowler.
"There have been quite a few tears shed from his friends. This pub is the heart of the village and it has touched the whole community; everyone is devastated and shocked."
Mr Jones said there had been no word from the New York Police Department (NYPD) about when his son's body would be flown home.
A funeral service will take place in the village's Holy Trinity church, Mr Jones said.
New York City's Police Commissioner Ray Kelly has told US reporters that murder suspect Orlando Orea left a note apologising at his residence.
Mr Kelly said the NYPD was working with the State Department, the US legal attache in Mexico and with Interpol and officers were expected to travel to Mexico, where police believe Mr Orea has gone, in the search for him.