Mike Jones: Soccer coach murder suspect's 'apology'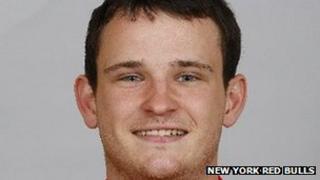 A man suspected of murdering a British football coach in New York left a note apologising, the city's police commissioner has said.
Mike Jones, 25, from Tarleton, Lancashire, was found with a severed ear and stab wounds to his body and neck early on Sunday.
Suspect Orlando Orea, 32, fled to Mexico on Tuesday.
Commissioner Ray Kelly told reporters officers were expected to travel to Mexico in the search for Mr Orea.
Mr Kelly said the note was found in Mr Orea's residence.
"It is basically a statement that he was sorry," he said.
"We're in contact with the State Department, the US legal attache in Mexico and with Interpol.
"We will most likely be sending personnel there. We're doing everything we can to set the process in motion to get this individual back here."
A memorial service was held on Wednesday for Mr Jones, who coached the juniors of US Major Soccer League team New York Red Bulls.
Match tribute
Police believe the suspect bought a one-way ticket with cash shortly before he flew from New York early on Tuesday about 15 hours before detectives identified him and asked for him to be placed on an FBI no-fly list.
One line of inquiry is that the football coach was mistaken for someone the suspect had an argument with in a nearby bar.
Team-mates from Tarleton Corinthians, Mr Jones's former club in Lancashire, will be holding a minute' s silence for him before their match on Saturday.
A similar tribute will take place before all matches played at the weekend in The Westchester Youth Soccer League, where Mr Jones coached several clubs.