BAE-EADS merger collapse news welcomed in Lancashire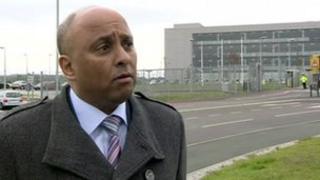 Lancashire MPs have welcomed the collapse of BAE's planned merger with French and German-owned defence company EADS.
BAE employs around 15,000 people in the North West at its Samlesbury and Warton factories.
Ribble Valley MP Nigel Evans said: "Decisions would be taken in Paris and Berlin; that's not in the interests of workers in Samlesbury and Warton."
BAE said the business remained "strong and financially robust".
Chief executive Ian King said he was disappointed the two companies were unable to reach agreement with government stakeholders.
The UK wanted its French and German counterparts to agree to limit their influence in the merged firm in order to maintain BAE's strong working relations with the US Pentagon, but did not receive those assurances.
Long-term worries
Preston Labour MP Mark Hendrick said: "I'm pleased it's fallen through on that basis - what we didn't want was the French and German governments dictating in future where investment should go.
"That's not the best outcome for British jobs and British interests."
Experts have expressed concern that the market in defence aircraft is shrinking and the merger could have secured jobs at BAE.
A Unite union spokesman said: "I'm not surprised, but I'm not worried about jobs in the short term.
"I'm more worried about the longer term effect of cuts in defence spending, and we don't know what the longer term implications are.
"As it stands at the moment, we stand alone and nothing has changed."
Earlier this year workers in Lancashire voted to lose a day's pay each month to stave off redundancies.
In January the firm said that more than half the 1,400 jobs under threat in Lancashire had been cut without compulsory redundancies.
Hundreds of BAE workers have already taken voluntary redundancy following a slowdown in orders for the Eurofighter Typhoon fighter.