Nurses arrested in Hillcroft care home abuse inquiry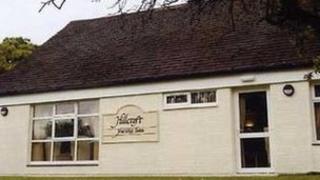 Six care workers have been arrested in connection with suspected abuse of elderly residents at a care home near Lancaster, police have said.
The allegations centre on the Hillcroft Nursing Home in Throstle Grove, Slyne-with-Hest.
Police were called to the home in May after a complaint from staff.
Five nurses and one matron, who no longer work at the care home, have been accused of neglect, ill treatment and physical abuse.
'Vulnerable residents'
The two men, aged 34 and 26, and four women, aged 26, 27, 53 and 59, were arrested on suspicion of committing offences. They were all bailed until 14 November.
They were held under the Mental Capacity Act 2005 and Mental Health Act 1983 at separate addresses in the Lancaster and Morecambe areas.
Police said mistreatment had allegedly taken place within the Challenging Behaviour Unit which cares for vulnerable adults with advanced Alzheimer's.
The alleged incidents date back to December 2010, with the most recent being reported in February.
Ch Supt Richard Bayly, of Lancashire Constabulary, said the allegations involved "very vulnerable, elderly residents" and involved "a significant number of cases".
He said: "The inquiry is complicated and we have a team of specialist detectives working on this case who are also offering support to those families who may have had loved ones identified as being allegedly mistreated.
"Our priority from the outset has been to ensure the safety of patients."
A Care Quality Commission report in July said the home had "failed to respond appropriately to allegations of abuse" relating to alleged abuse in September 2011.
A CQC statement issued after the arrests said it had also visited five other homes run by Hillcroft.
It added: "We will be returning to all of the homes to check that the required improvements are made. If we find that the required improvements have not been made we won't hesitate to use our legal powers to ensure residents are receiving the service they are entitled to expect."
'Immediate action'
Steve Gross, Lancashire County Council's director of commissioning, said the authority's primary concern was the safety and well-being of residents.
He said: "Together with our colleagues from NHS North Lancashire, we took immediate action to ensure that residents are safe and well cared for and we are continuing to monitor the home very closely to make sure the proper standards of care are maintained."
Dr Jim Gardner, medical director at NHS Lancashire, said: "We continue to work with partners to closely monitor the home to ensure care standards are being maintained."
There are five privately-owned Hillcroft nursing homes in north Lancashire providing care for the elderly.
Hillcroft managing director John Ayrton said: "We wish to confirm that since the incidents were brought to our attention, we have fully co-operated with the police investigation and continue to work closely with Lancashire County Council, the Care Quality Commission and North Lancs Primary Care Trust."