Service for New York Red Bulls coach Mike Jones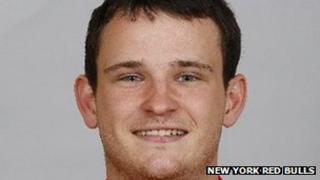 A memorial service will be held on Wednesday for a 25-year-old British football coach stabbed to death in New York.
Mike Jones, originally from Tarleton, Lancashire, a youth coach with the New York Red Bulls, was stabbed in a street attack in Manhattan on Sunday.
The service will be held at First Baptist Church in White Plains, New York, at 10:00 local time (15:00 BST).
New York Red Bulls are one of the top teams in US Major League Soccer (MLS).
The service has been organised by the club, which will be collecting condolences, messages and gifts to send to the family of Mr Jones.
A message board set up by the club has had several tributes from parents of the youngsters Mr Jones had coached in his five-years with the Red Bulls and the junior football teams linked to it.
One mother wrote: "I am heartbroken. He was so kind, always smiling & having fun with the boys - such a tragedy. His family and friends are in our thoughts and prayers."
A father of another boy added: "Amazing young man who was a wonderful coach to my son."
FC Somers, one of the junior teams he coached, said: "There are no words to express our horror on hearing this tragic news.
"Mike brought so much joy to so many youth players in Westchester, and is known to many in our small town.
"Our deepest condolences to his family, friends and the Somers families who welcomed him into their homes as he trained our players at summer camp."
A statement from The Westchester Youth Soccer League, where Mr Jones coached several clubs, said: "Mike was an extraordinary soccer coach and a remarkable person.
"Over the past five years he worked with a number of our clubs, coaching and training teams in the Westchester Youth Soccer, FC Somers, Yonkers United and the Castleford Rovers Soccer Club in Armonk/Bedford.
"He was a truly dedicated teacher of the game and was an inspiring influence on our players and the many adult volunteers who worked with him."
The league's statement said it was working with local clubs and Red Bulls to discuss a lasting tribute to Mr Jones in the town of Westchester.
It added that this weekend all teams would observe a minute's silence to "honour his life and contribution to our league and the game of soccer he truly loved".
Former Everton star Tim Cahill, who now plays for the Red Bulls, added his condolences on the social media website Twitter.
"So sad to hear the news about Mike Jones a coach @NewYorkRedBulls, my thoughts are with his family and friends," he said.
Mr Jones, who had spent 10 months a year in the US working as a coach for the past five years, hoped to get a visa so he could live full-time in the US, his family said.