New York Red Bulls coach Mike Jones stabbed to death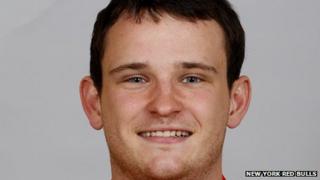 A 25-year-old British man who was working as a football coach in the US has been stabbed to death in New York.
Mike Jones, originally of Tarleton, Lancashire, was attacked in Manhattan in the early hours of Sunday, the New York Police Department (NYPD) said.
Mr Jones, who coached the New York Red Bulls juniors, was declared dead on arrival at Bellevue Hospital, New York.
An NYPD spokesman said the coach had been found with a severed ear and stab wounds to his head and neck.
'Cannot believe it'
His father Perry said one of his son's friends had alerted the family to contact the NYPD via the social media website Facebook.
"I contacted the police and I was totally shocked, I was expecting to hear he had been injured in an accident," said Mr Jones.
"We just cannot believe it."
He said his son spent 10 months a year in the US working as a coach and had just got his own apartment with two friends.
Mr Jones added: "He loved New York and he loved the lifestyle and was working hoping to get a visa so he could stay there full time."
Officers answering an emergency call found Mr Jones on the street near 25 West 14th Street at about 04:30 local time (09:30 BST).
Mr Jones had spent the evening with his girlfriend and they had parted just before midnight.
His body was found on the pavement and he had been stabbed in the neck and chest.
Witnesses said he had been arguing with a man but it is unclear whether Mr Jones knew his attacker.
The NYPD spokesman confirmed a "homicide investigation" was under way.
Premier League stars
Mr Jones had been a coach with the Youth Training Programme of the New York Red Bulls for the past five years.
"He was a tremendous individual, a fantastic coach who loved soccer and a terrific friend for many of us," the club said in a statement.
"This is truly a sad day for our soccer community and we will do our utmost to help authorities in their investigation of this case.
"Our thoughts and prayers are with Michael's family at this time."
The New York Red Bulls are one of the leading teams in US Major League Soccer (MLS).
Current players include former English Premier League stars Thierry Henry, formerly of Arsenal, and Tim Cahill, who played for Everton.
"It is absolutely horrendous," said Betty Parkinson, chair of Tarleton Corinthians, for whom Mr Jones used to play.
'Devastated club'
Her husband John, the club treasurer, said Mr Jones had been with the senior team from the age of 17 until he went to the US on a scholarship.
"He came home around November time and played football with us. So he kept in touch with everybody. He was just one of the lads," he said.
His former manager Dave Nelson said: "I feel anger, upset and absolute devastation. You wouldn't want that to happen to anyone.
"Mike was such a nice guy - down to earth, outgoing, funny, always up for some banter but he knew when to be serious, loving and caring."
Mr Jones is a former pupil of Tarleton High School, studied sports science at Edge Hill University and also played for Hesketh Bank FC.