Rishton boy praised for saving woman's life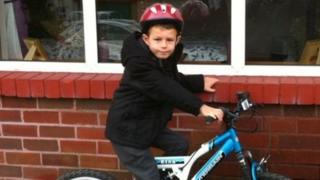 A six-year-old boy from east Lancashire has been praised by police and paramedics for saving an elderly woman's life.
Jacob Carr was riding his bicycle on Westwell Avenue, Rishton, on Wednesday afternoon when he heard someone crying for help in a nearby garden.
He immediately ran to tell his mother who discovered an 82-year-old woman had fallen and broken her hip.
Community beat manager PC Dave Render described Jacob as "a real hero".
The woman was taken to hospital for surgery and is now recovering, said police. Officers visited Jacob and thanked him for saving the woman's life.
'Paramedic in the making'
PC Render said: "Jacob knew something was wrong and so immediately ran to get his mum.
"His quick thinking and thoughtful actions have probably saved her life. He is a real hero."
Peter Mulcahy, head of the North West Ambulance Service, said Jacob was "a paramedic in the making".
He said: "Lots of children can be quite traumatised when coming across something like this but Jacob did the right thing by keeping calm and getting help."
Jacob's mother Louise Carr said: "He was on the front riding his bike and I was in the garage. He came pedalling back and said he was worried because he had heard someone shouting for help.
"He took me to the house and I saw one of my neighbours had fallen in her garden so I quickly called for an ambulance.
"He even helped the paramedics by getting blankets out of the ambulance. If it hadn't been for him we would have never known the lady was in trouble."
She said: "He was very brave and I'm really proud of him.
"He knew she needed help but knew not to approach her because he had done 'stranger-danger' at school."