Phone stolen from toddler in Ormskirk shop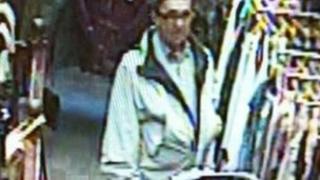 A mobile phone was stolen from a toddler as she played with it while out shopping with her mother in Lancashire.
The Apple iPhone 4 was taken from the hands of 20-month-old Luella Reid while she was in the Hype clothes store in Ormskirk.
Her mother, Daniella Hinnigan, 26, from Kirkby, Merseyside, had given her the phone so she could watch a film on it.
CCTV showed a man approach Luella in her buggy and appear to leave the shop with the phone.
Lancashire Police are appealing for anyone who recognises the man, who has grey hair and glasses, to contact them.
Ms Hinnigan said she had turned her back for a moment in the shop and her daughter told her the phone had gone.
Not believing she had thrown it away, she asked shop staff to check their CCTV.
She said: "It was literally four seconds I turned my back, but I'm glad it's just a mobile phone.
"People do say, what are you doing giving a 20-month-old an iPhone, but you should be able to give your daughter anything, it shouldn't be taken out of her hand."
"She doesn't let go of it, she is addicted to the iPhone and the iPad at home, she just watches them constantly so I knew she wouldn't have done it (thrown it away)."