Same-sex marriages 'undermine family unit'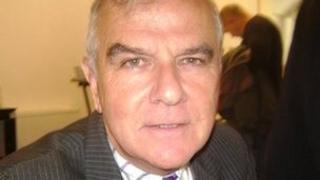 A conference has heard the family unit is under attack from government proposals to allow same-sex marriages.
John Smeaton, director of the Society for the Protection of the Unborn Child (SPUC), was speaking at the conference in Blackpool.
He said: "Marriage will be undermined because we will no longer be able to teach our children that marriage exists to protect them."
Around 150 people attended SPUC North West's regional meeting.
They heard detailed objections to the government's proposals.
Civil partnerships were introduced in 2005 to give same-sex couples the same legal rights as married couples, but the law does not allow such unions to be referred to as marriages. Same-sex marriages under attack
Free vote
The government said it intends to legislate on gay marriage by the end of this parliament, but that MPs will be allowed a free vote.
Recently, Labour leader Ed Miliband said he was in favour of churches being allowed to conduct same-sex marriages.
However, most leading churches are opposed to the proposals.
Preston's Tony Mullett, SPUC's development officer for most of England and Wales, said their opposition to same-sex marriage is crucial.
Mr Mullett said: "We have got to defend marriage as the traditional definition between a man and a woman.
"If we alter the definition, we undermine marriage, we undermine the family and we undermine society."
SPUC were set up 45 years ago with an aim "to respect human life and in particular that of the unborn child".
Mr Smeaton said the inability of same sex-couples to naturally have children does not mean they should not speak out.
"If this goes ahead the child will no longer be regarded as fundamental to the married state," he said. "Marriage will become a genderless institution."
He denied that he is singling out gay couples: "I'm seeking to defend families and children. There is no question whatsoever that we are in any way interested in, or concerned about, or wanting to discriminate against anybody."
Joe Wilson presents the faith programme on BBC Radio Lancashire from 06:00 each Sunday.